The GNAA Directory is Here! | Every Member Matters
Every Member Matters: The 2022 GNAA Directory is Here!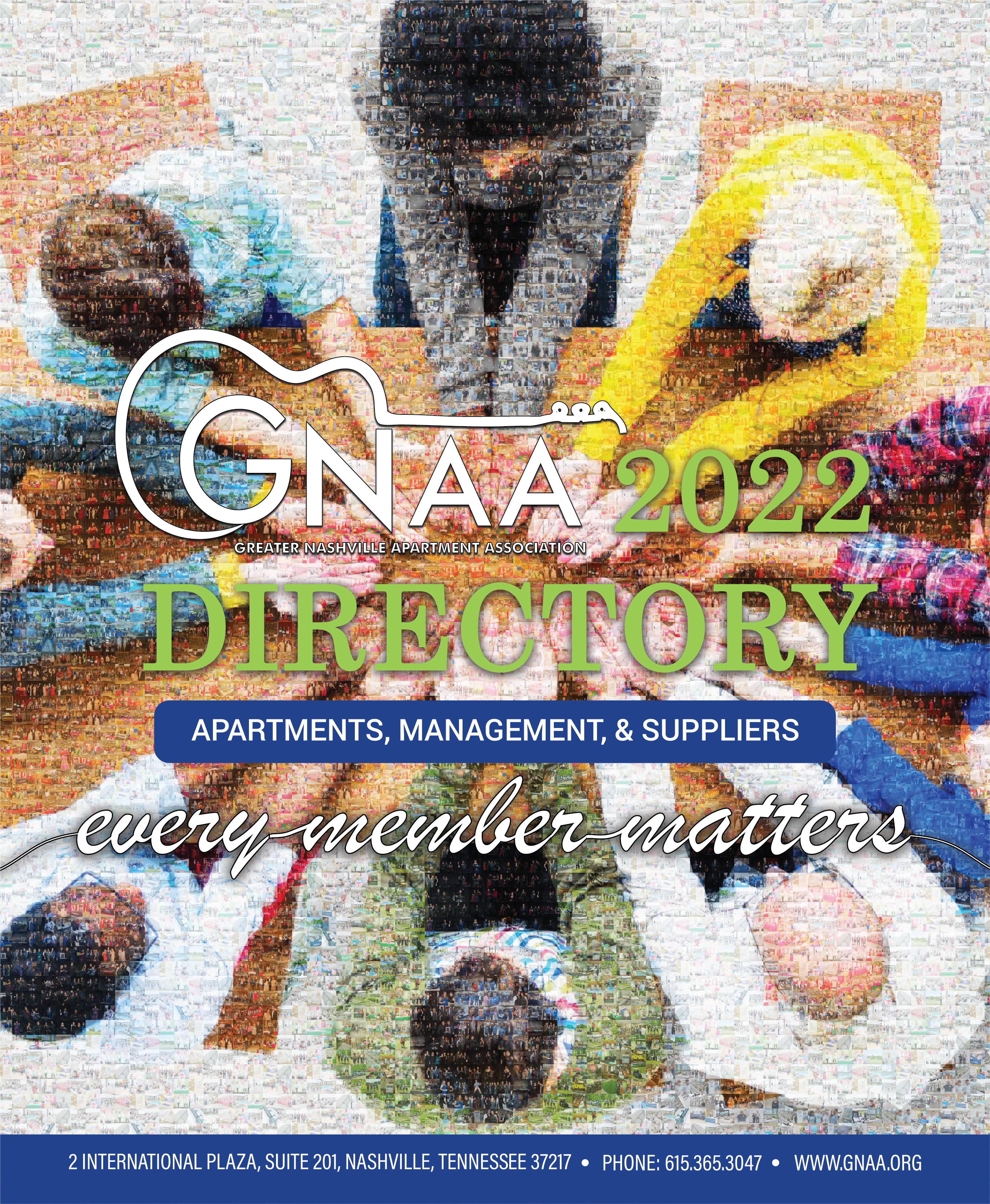 Be on the lookout for the 2022 GNAA Directory in your mailbox! The association is very excited to present to you the 2022 Membership Directory: Every Member Matters! The cover describes, not only the diversity of the GNAA membership, but the sense of community that GNAA membership has to offer. It depicts a joining together of people and do not worry! The photo is not pixelated! The photo is made up of smaller images of our members at past GNAA Events. Photos from events like the 2021 Trade Show, the Maintenance Cornhole Tournament, the 2021 Apartment Tour, the 2021 Golf Tournament, etc. Readers can take a closer look at the photos by clicking the link attached to the image.
A Little More Technical Information
The GNAA Member Directory is an excellent tool that is exclusively available to members of GNAA. This guide allows members to quickly find companies and colleagues along with finding the perfect supplier for a property's needs. Management companies are listed alphabetically and include contact information along with the apartment communities affiliated with each company. Apartment Communities are also listed alphabetically and include contact information plus Management Company name and the number of apartment homes. List Suppliers include contact information and a description of services provided. Also, included in the directory, is a Buyer's Guide which is a reference section of GNAA Supplier members and the products and services they offer. In addition, the directory provides a list of GNAA staff members along with a list of the 2022 Board of Directors. Please feel free to utilize this directory for all of your product and service needs!
Check out the GNAA Online Directory
The GNAA website now features an online directory, open to all members of GNAA. The online directory serves as a significant resource for Managements Companies, Apartment Communities, and Supplier members as it houses the most up-to-date information. The online directory also is method of free marketing as companies and member can personalize their own profiles. Companies and individual members are able to upload professional biographies, headshots, contact information, links to social media, charity work, and award information. Having trouble finding a specific member? Members can utilize the search bar to find suppliers for their specific needs as well as scroll through a category list of services offered. For suppliers, the directory holds a complete list of apartment communities and management companies along contact information and a list of employees, making it easy to reach the correct contact. Since new members join every month throughout the year, GNAA encourages its members to utilize the online directory because it provides the most current information.